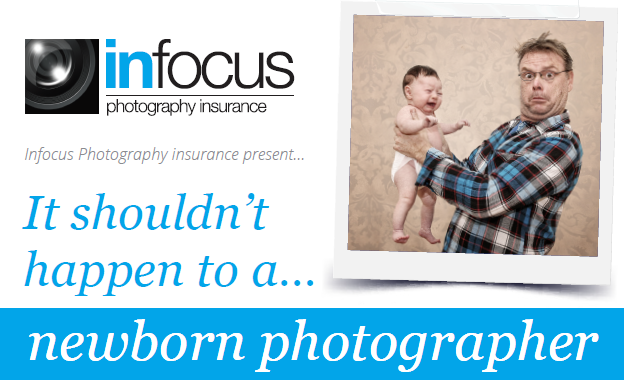 Not many professional photographers come home from a day's shoot covered in body waste, but for newborn photographers, a smattering of wee and poo is all part of the day job.
It's just one of the hazards faced by the smart and brave artisans working in this sector, the first we put Infocus for our 'It Shouldn't Happen To…' series.
The aim of the series is to provide advice for new photographers and an entertaining read for those who have been round a bit longer. Have we succeeded? Please let us know in the comments. Anyway, back to the business, if you'll forgive the pun.
It's a hazard that comes with the territory; and for Sarah Wilkes of Sarah Wilkes Photography, it's something you simply have to get used to.
She said: "You take a nappy off a baby, and it's going to poo on you. You just have to crack on with it, and make sure you have spare clothes."
Claire Elliot, a panel member of The Guild of Photographers and newborn photographer, agrees:
"The thing is once you get the nappy off and air gets to the baby's bits. Well let's say 95 per cent of the time you get a little gift from baby. Boys are worse than girls because they pee up in the air and over their own heads. They can be a nightmare," She said.
Claire added: "I remember once I was wrapping a baby for a shot and the mother told me the baby was constipated. Well as soon as I lifted the legs up, it was a poo-nami! I was covered. The parents are usually mortified. But if you're going to be a newborn photographer you can't be squeamish about it."
Newborn is one of the fastest growing sectors in the photography industry.
The shoots capture babies at just a few days old – usually between 4 and 14 days – and it is a sector not for the faint-hearted.
Bodily functions aside, newborn photography brings with it a unique set of challenges, from finding suitable props to manoeuvring babies into the perfect pose.
And for the best results, you need a sleeping, milk-drunk baby.
Sarah said: "Getting the baby to go to sleep can be the biggest challenge. I give parents a packed information sheet ahead of their shoot, but the most important thing is to try to keep the baby awake in the hours before a shoot and feed them as soon as they arrive.
"I also make sure the studio is lovely and warm and play white noise – usually the sound of the womb – to encourage sleep."
Babies are easier to pose when asleep. And for anyone considering a move into the newborn photography, both Claire and Sarah agree the baby's safety is paramount.
Claire said: "There's the safety element of putting babies into poses, and positions that are not completely natural. You have to learn how babies can be manipulated safely without damaging their body parts.
"When I began 18 years ago, there was no newborn baby training available. So I spoke to local medical people I knew – paediatricians, nurses – and learned from them the right way to move a baby's limbs around, as well as what to look out for."
Like Claire, Sarah was one of the first newborn photographers in the UK. She discovered the industry when pregnant with her first child and was blown away by the images she was seeing from the US. She combined her experience in childcare – she was previously a nursery nurse – as well as her passion for photography to carve out her new career.
Upselling is key to making money. Sarah charges a fee for the shoot and upsells packages when clients return to view their images and both her and Claire run training sessions for budding newborn photographers.
Claire said: "I travel up and down the country hosting workshops and giving private tuition, I teach at the Newborn School and work with the Newborn Baby Posing Company Ltd, in association with the Guild of Photographers. I also provide online mentoring as well."
Sarah also runs her own workshops and offers bespoke one-to-one training. For her, it is paramount wannabe newborn photographers do their research and find a photographer whose style they like and go with them for training.
Sarah is also the co-owner of The Newborn and Portrait Show, alongside Tracy Willis, which has been around since 2013.
Sarah said: "Newborn photography is a niche industry so we created our own specialist trade show. We contacted all the trades and asked them to join us.
"Being a sole trader can be really lonely and this brings everyone together. It's an opportunity to network, shop and socialise."
The growth of The Newborn and Portrait Show – which now boasts Fuji and Sony among its exhibitors – is testament to the scale of the industry. But for Claire, being a newborn photographer is all about the intimate connection between herself and the families she shoots.
Claire said: "Watching parents as they see the images I've captured of their baby, who is so tiny and so young. The look on their faces is what makes it all worthwhile. Especially if they have special pose in mind and you achieve that for them, that's the best. What we do as newborn photographers is produce memories."
Sarah agrees: "Seeing the parents' faces when they look at the images of their child who, even two weeks later, has already changed. It is so rewarding, especially if they cry. More so when the dad's cry."
Claire added: "Like everyone else, we need money for rent and for living, but it's not a job you do for the money. It's for that look, the satisfaction you get from seeing the parents. Otherwise, it would be too hard to put up with all the poo."