21 Ways to annoy a professional photographer.
---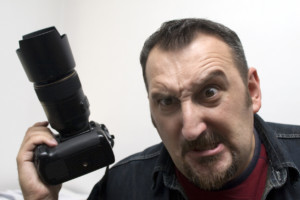 WE asked on social media, we mailed our friends, we checked with the researchers from Family Fortunes (okay, maybe not that) and we found out what really gets your goat.
And, professional photographers, there is plenty.
From questioning your skills: "These are great images, you got really lucky," to pushing the limits of Photoshop: "The bride asks if the tattoo on her shoulder can be Photoshopped out in every pic"; you might be capturing some of the most precious moments in a person's life but that doesn't mean you're going to get the credit – or respect – you deserve.
Sure, you need to take the rough with the smooth. And a little patience can go a long, long way. But we wanted to know what were your biggest bugbears?
 Fees
From asking for discounts for digital images to abusing friendships, when it comes to paying a fair price for a photography package some clients are reluctant.
Here are some of the things which grind your gears on the rather delicate subject of money:
"People making me feel like I 'owe' them a freebie or money off package just because they have met me a few times."
"When invited to a family party or event – 'You will bring your camera, won't you?'"
"Being invited to a party or a wedding as a guest and being asked to bring your camera knowing full well they just expect freebies."
"Being asked: 'Because it's digital, can we get a discount?'"
"Family/friends expect you to shoot for free."
"Asked if I can send all the photos from the session."
Client expectations
As a professional photographer, an essential part of your role is working with lots of different clients on all manner of jobs. And their expectations will vary too – something they are not afraid of sharing – no matter how unrealistic:
"When children misbehave and scream and throw things around the studio, and parents look at me like it's my fault their child misbehaves and I can't get a shot like the one they once saw in a magazine somewhere."
"Being treated as a slave at a wedding rather than a paid professional."
"Being told, 'I just need one photo'."
"Can you make me look like thinner?"
"Printing companies that tell clients an image isn't good quality if it isn't 300PPI when they are getting an enormous print done. Cameras with that resolution don't exist outside of NASA."
"Can we copy this image from Pinterest/Instagram"
Questioning your career choice
Unless you're Mario Testino or Annie Leibovitz, are you really a professional photographer?
Yes, of course you are, but that doesn't mean your clients think so. Hands up if you've ever been told:
"Those are great images, you got really lucky."
"You have such an easy job."
"Nice pictures, you must have a really good camera."
"Do you have a real job too or is this it?"
Skill set
Professional photographers need to be as skilled behind a computer screen as they are a camera. But while most photographers use Photoshop to enhance images, some clients believe the Adobe package can perform miracles.
"The bride asks if the tattoo on her shoulder can be Photoshopped out in every pic."
"Joy of joys, my august groom has two broken teeth at the front, you can probably guess what he has asked me to do."
And finally
Those awful comments that don't really fall into any classification except, well, annoying:
"Can you take another one on my phone too?"
"You are not allowed to take photos here."
"Can I edit them myself?"